Frequent Coughing Fits Are Commonly Caused by Undiagnosed Allergies & Asthma
---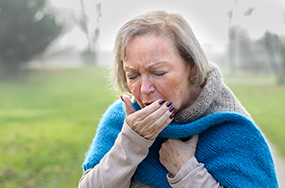 Coughing can be due to many different causes:
Cough variant asthma.
Postnasal drainage.
Acute viral infections.
Gastroesophageal reflux.
Post-infectious syndrome.
Allergic bronchitis.
Because of the possibility that an individual's respiratory symptoms are being caused by allergies, you should call today to be seen at our office for an evaluation to discover the source of your coughing.